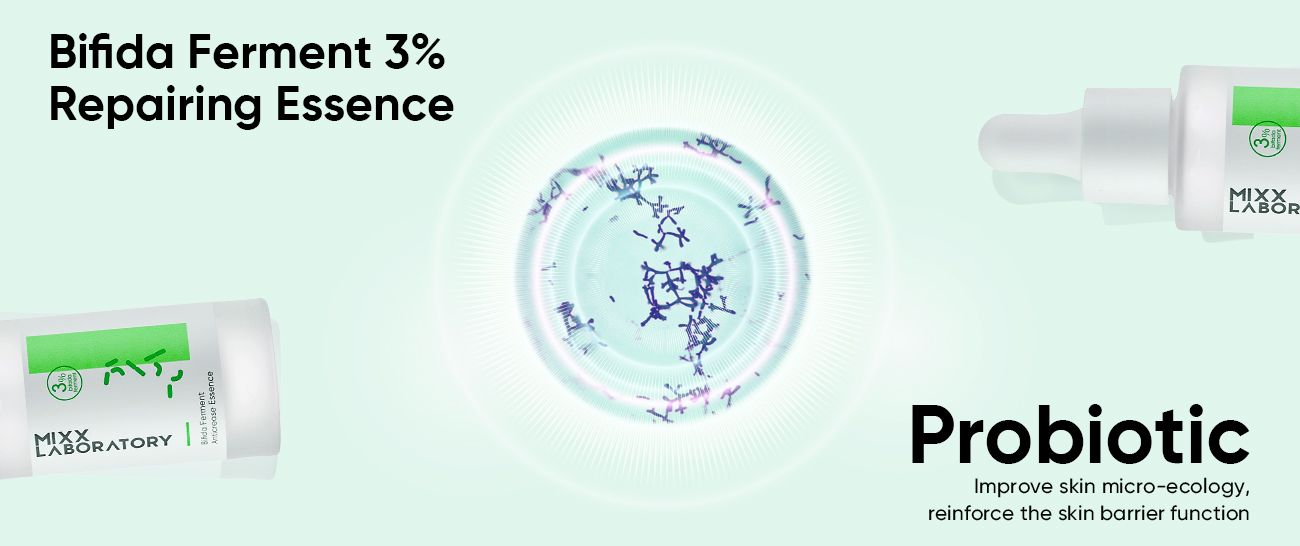 Our skin has a natural pH balance of 4.7. When we over-cleanse and over-scrub, we can throw off this delicate balance, exposing our skin to all sorts of issues and irritation.
Some skin care products have alarmingly high pH levels – some as high as 12! These products can destroy our skin's microbiome – the ecosystem of good bacteria that sits on our skin.
Enter Bifida ferment lysate: a savior for super-scrubbed skin.
Bifida ferment for over-processed skin
It's now widely accepted – even admired – to have something like 19 different products in your daily skincare routine. We love our skincare (naturally), but enough is enough. Overloading our skin with active ingredient after active ingredient can do more harm than good.
You shouldn't need more than 5 or 6 high-quality items in your morning and evening routines. They should include, at a basic level: a cleanser, a moisturizer, an SPF (for the mornings), and a toner.
Adding a serum or two of your choice that addresses specific skin concerns will be what brings your routine into its A-game. This bonus ingredient might be a hyaluronic acid for extra hydration or a pro-xylane for anti-aging.
Bifida ferment is the crowning glory of a routine that delivers true, noticeable change. By returning our over-processed complexions to their natural pH level, a wealth of concerns can be alleviated.
Further, your skin will be much better able to handle strong ingredients and combinations of formulas. So even if you do love to layer up your skincare routine (and if you can do it safely, why not?), you'll be protecting your skin's natural moisture barrier from being damaged or dried out.
Bifida ferment for sensitive skin
You might be thinking: 'I don't overprocess my skin! I couldn't even if I wanted to. The slightest hint of an unfamiliar product and my skin flares up/gets super dry/gets super oily/freaks out in general.'
The benefits of Bifida ferment, strangely enough, still apply to you in exactly the same way.
This clever probiotic is effective in reducing inflammation and dryness and increasing the skin's resistance. This is particularly helpful for those that struggle with very sensitive skin, or chronic skin conditions such as rosacea, eczema, or dermatitis. Often, it can be an imbalance in the skin's pH level and microbiome that causes or aggravates these conditions.
Bifida ferment for normal skin
If you're one of those lucky people in the 'normal skin type' camp, Bifida ferment still has plenty to offer. When our moisture barrier is at its healthiest, our skin is able to hold in all the good stuff that keeps it young. And we don't just mean moisture – a healthy barrier is also able to keep natural oils in and collagen and elastin levels up. It also keeps dirt, pollution, and harmful bacteria out. This is how Bifida ferment presents another trick up its sleeve – powers of anti-aging.
So why isn't Bifida ferment in more skincare products?
You might be surprised. Bifida ferment lysate is actually a key ingredient in a staple of luxury skincare: Estée Lauder's Lancome's Advanced Génifique Face Serum, and it's Advanced Night Repair Serum. Their world-class labs were one of the first to discover significant reductions in skin sensitivity, dryness, and roughness with just a month's use of Bifida ferment.
Other studies have since produced the same impressive results.
Bifida ferment is more available than you think, but the problem is, products containing this powerful probiotic tend to be high in price. We think everyone should be able to enjoy its microbiome-boosting benefits. If you're ready to give it a go, you can take a look at our Bifida Ferment 3% Repairing Essence here.