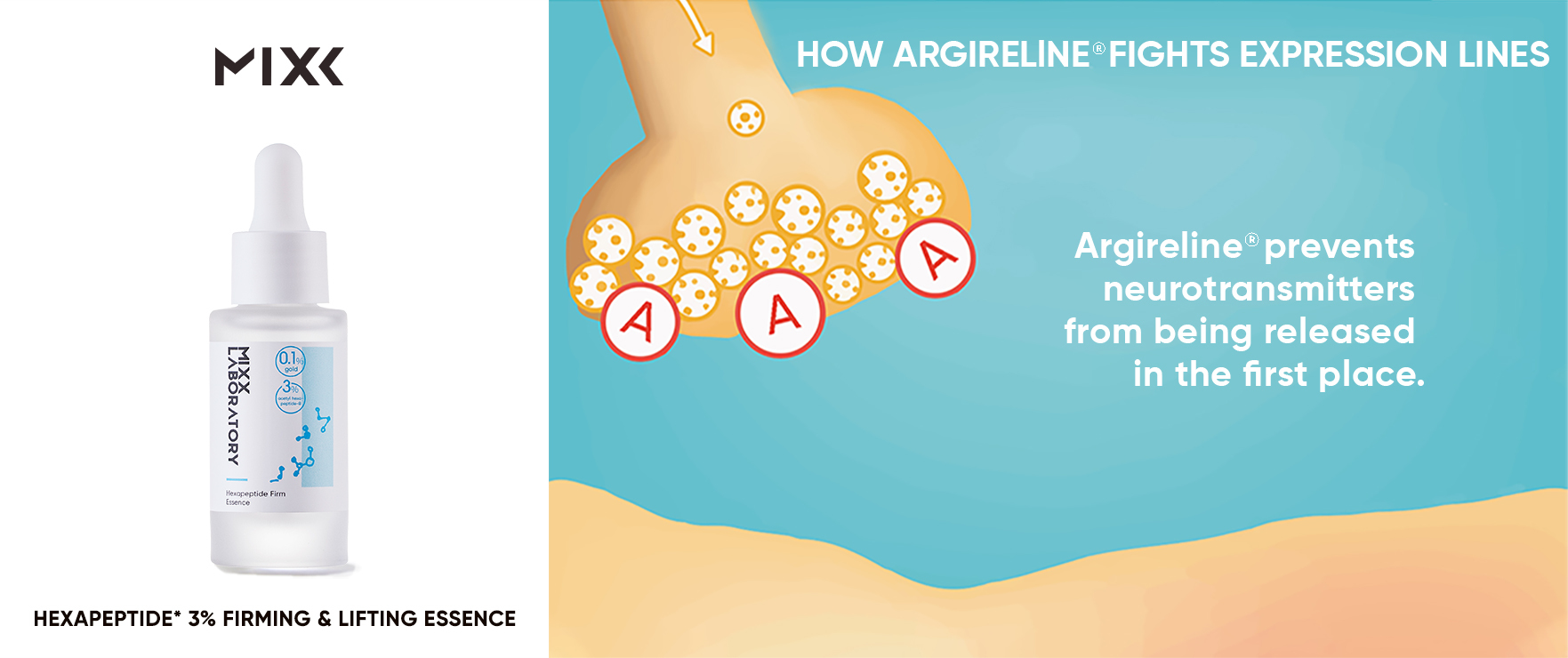 Social media is abuzz with conversations about Botox. Cosmetic 'injectables' like Botox, Profhilo, and dermal fillers are becoming increasingly affordable, and widely socially accepted. Forget anti-wrinkle creams – women in their 20s and 30s are getting in ahead of the game, freezing their facial muscles before wrinkles can even form.
But what if you're not quite ready to go 'under the needle'? What if you prefer something a little more natural? And what if you're looking to reduce signs of aging while maintaining the character and expression of your face?
Enter hexapeptide. Full name: acetyl hexapeptide-8. Brand name: Argireline®.
The terminology is a bit of a mouthful. It's not something you'll find in abundance on drugstore shelves. That's because this unique and powerful ingredient is under a patent – cosmetics brands have to pay for a license to use it.
Benefits of hexapeptide
The topline summary of hexapeptide (or Argireline®) is that it targets dynamic expression lines like frown lines and crow's feet. By 'dynamic', we mean deep lines that are formed over a long period of time. Anti-aging creams and concealing makeup can only work on the outermost layers of our skin. They can smooth the appearance of fine lines, but won't be effective on the deep grooves that are formed by our daily facial expressions.
The patented peptide Argireline® is the no-needle answer to Botox. 'Botox' is shorthand for 'botulinum toxin' – a neurotoxin that works by breaking down the neurotransmitters that tell your muscles to contract.
Argireline®, on the other hand, prevents those neurotransmitters from being released in the first place. Unlike many corrective anti-aging creams and lotions, it also stops new lines from forming, in much the same way as Botox.
How do I use hexapeptide?
Hexapeptide should be used after cleansing and toning, but before moisturizing. Let it sink in, and apply your moisturizer 30 minutes later to hydrate and seal the moisture barrier.
Hexapeptide is very effective when applied in a targeted way, focusing on areas like crows' feet, 'angry 11's (between the eyebrows), and frown lines.
Where can I find hexapeptide?
Literally, the gold standard for skincare, our Hexapeptide 3% Firming & Lifting Essence[link to product page] is compounded with 0.1% nano-gold. This 24-carat ingredient generates negative ions to neutralize free radicals (one of the leading causes of premature aging).
Like all of our products, our hexapeptide solution is formulated with the optimum concentration for maximum effectiveness.