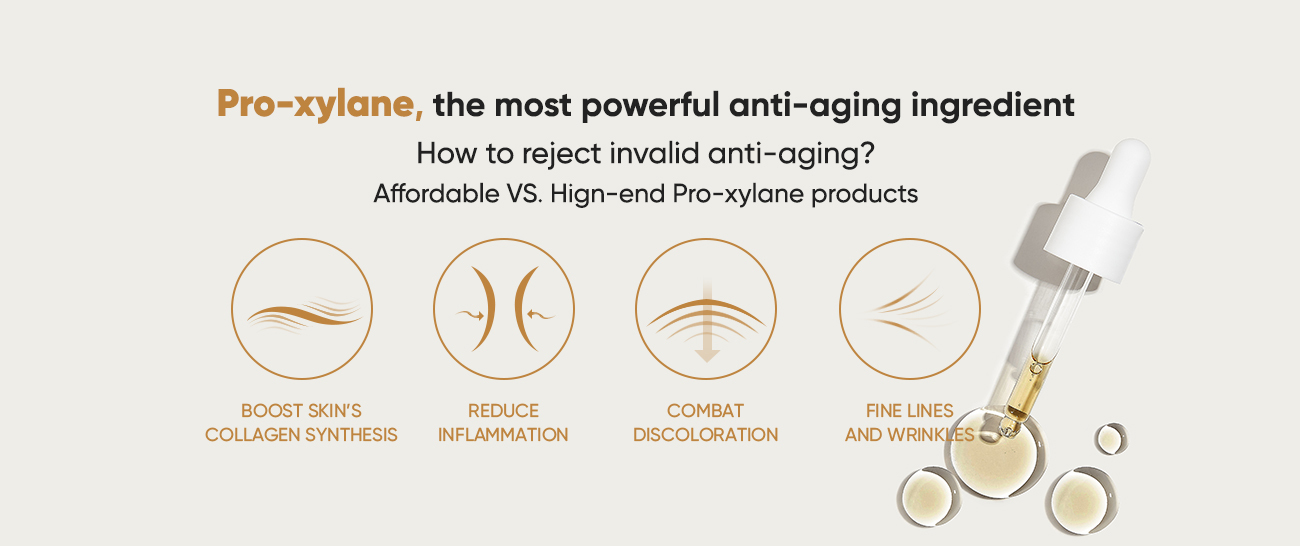 CAUSES OF SKIN AGING
To combat skin aging, we need to be fully aware of our enemy.
Skin aging is a continuous process in which progressively morphological and functional changes in the skin. There is a decline in biological functions and in the ability to adapt to metabolic stress.
Exposure to sunlight is the main external factor responsible for skin aging due to oxidative stress. Damage to the skin caused by prolonged exposure and daily UV exposure is called photoaging, which is also the enemy for uneven pigmentation.
The aging causes the dermis and epidermis to be thinner again. The skin also loses the underlying fat layer. The joint decrease in volume and overall effectiveness of the three layers of the skin leads to several changes. The skin loses some of its elasticity.  
POWERFUL INGREDIENT FOR ANTI-AGING
Proven anti-aging ingredients including Pro-xylane, Peptide, EGF, Vitamin E, Bifida ferment.
WHAT IS INVALID ANTI-AGING
1. Irregular diet and lifestyle.
2. Long exposure to the sunlight without protection and after-sun repair.
3. An off-and-on skincare routine. Skincare and anti-aging require consistent efforts and some patience.
4. An untargeted skincare solution. Aging factors can be varied with each individual, aimless solutions may waste your money and time.
5. An insufficient coverage of anti-aging products. Even the most powerful ingredient needs a supple use. A dime of the drop could be scratching the surface.
Pro-xylane 10%
Facial Light-Stripe Essence
Aging is a normal process for everyone yet a healthy and advanced skincare routine cannot let time mar your beauty and confidence.
Considering point 5 of invalid anti-aging causes, MixX Laboratory Pro-xylane 10% Facial Light Stripe Essence is highly recommended. With a 10% high concentration of Pro-xylane at $19.99, it allows sufficient use in both morning and evening with perceptible results.
Pro-xylane 10% Anti-aging Essence
Featured Ingredient: Pro-Xylane 10%
Pro-xylane 10% Facial Light-Stripe Essence helps build collagen production and maintain skin vitality, whilst combating both slightly visible signs of aging. By daily use helps you glowing and luminous all the time.
Featuring Pro-Xylane (derived from Beech tree) as well as Morus Alba (Mulberry) leaf extract, our Facial Light-Stripe Essence is the ultimate anti-aging serum. Pro-Xylane is a naturally occurring sugar molecule abundant in Beech trees. This sugar molecule is highly regarded for its ability to activate the natural synthesis of GAGs, hyaluronic acid, and collagen production, resulting in visibly plumper, firmer skin. Mulberry extract complements these effects by reducing inflammation, combating discoloration, and fading the appearance of dark spots.
Facial Light-Stripe Essence
A Collagen anti-aging essence is specially formulated to restore elasticity, improve skin tone and prevent early signs of aging.  
What it is:
Our anti-aging essence helps build collagen production, giving the skin strength and elasticity. This Light-Stripe Essence contains antioxidant ingredients, which effectively prevent early signs of aging and reduces fine lines. Formulated with Hydroxypropyl tetrahydropyrantriol, this essence boosts the production of important skin-building blocks: GAGs (aka glycosaminoglycans, important NMFs) in the extracellular matrix (the goopy stuff between our skin cells), resulting in hydrated, smoother, and firmer skin. Packed with powerful ingredients, it visibly improves skin texture, facial contour and tightens the skin. Our essence stimulates the natural production of collagen, which drives noticeable results and vibrant-looking skin. Reach the dewy, glowing, fresh skin with collagen boosted light-stripe essence.
US$19.99
The affordable price brings no burden to daily use. Pro-xylane Anti-aging Essence combines effective and friendly to all skin types including sensitive skin with a powerful ingredient.
Benefits of Mixxlab's Lab Pro-xylane Product:
Combats visible signs of aging 
Improves collagen production  
Dermatologist-tested for safety.
How to Apply:
Apply a dime-sized amount after cleansing your face  
Massage into the skin morning and night 
Apply your favorite facial moisturizer after the essence 
Avoid contact with eyes 
If contact occurs, rinse thoroughly with water.
MixX LABORATORY PHILOSOPHY
MixX Laboratory dedicates to develop simple yet effective products for individuals. Our dermatologists study the intricacy of all skin types and complexions to work with the best ingredients for your skin while avoiding unnecessary ingredients that are potentially harmful, or irritating. Our philosophy drives us to never contain alcohol, fragrances, artificial pigments, parabens, essential oils, or unrefined petrolatum.