Facial Light-Stripe Essence
A Collagen anti-aging essence is specially formulated to restore elasticity, improve skin tone and prevent early signs of aging.  
What it is:
Our anti-aging essence helps build collagen production, giving the skin strength and elasticity. This Light-Stripe Essence contains antioxidant ingredients, which effectively prevent early signs of aging and reduces fine lines. Formulated with Hydroxypropyl tetrahydropyrantriol, this essence boosts the production of important skin-building blocks: GAGs (aka glycosaminoglycans, important NMFs) in the extracellular matrix (the goopy stuff between our skin cells), resulting in hydrated, smoother, and firmer skin. Packed with powerful ingredients, it visibly improves skin texture, facial contour and tightens the skin. Our essence stimulates the natural production of collagen, which drives to noticeable results and vibrant-looking skin. Reach the dewy, glowing, fresh skin with collagen boosted light-stripe essence.
Skin Type: Normal, Dry, Combination, Oily, and Sensitive
Benefits:
- Combats visible signs of aging
- Improves collagen production
- Promotes skin elasticity
- Boosts skin hydration
- Smoothes skin texture
- Maintains skin vitality
- Dermatologist-tested for safety
How to Use:
- Apply a dime-sized amount after cleansing your face
- Massage into the skin morning and night
- Apply your favorite facial moisturizer after the essence
- Avoid contact with eyes
- If contact occurs, rinse thoroughly with water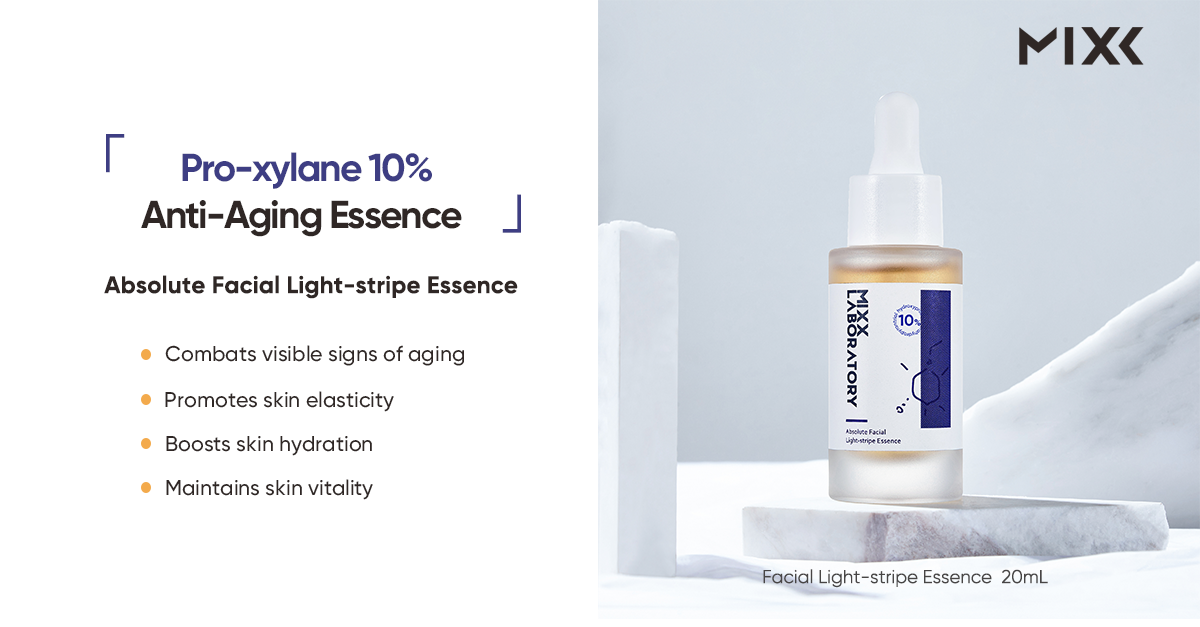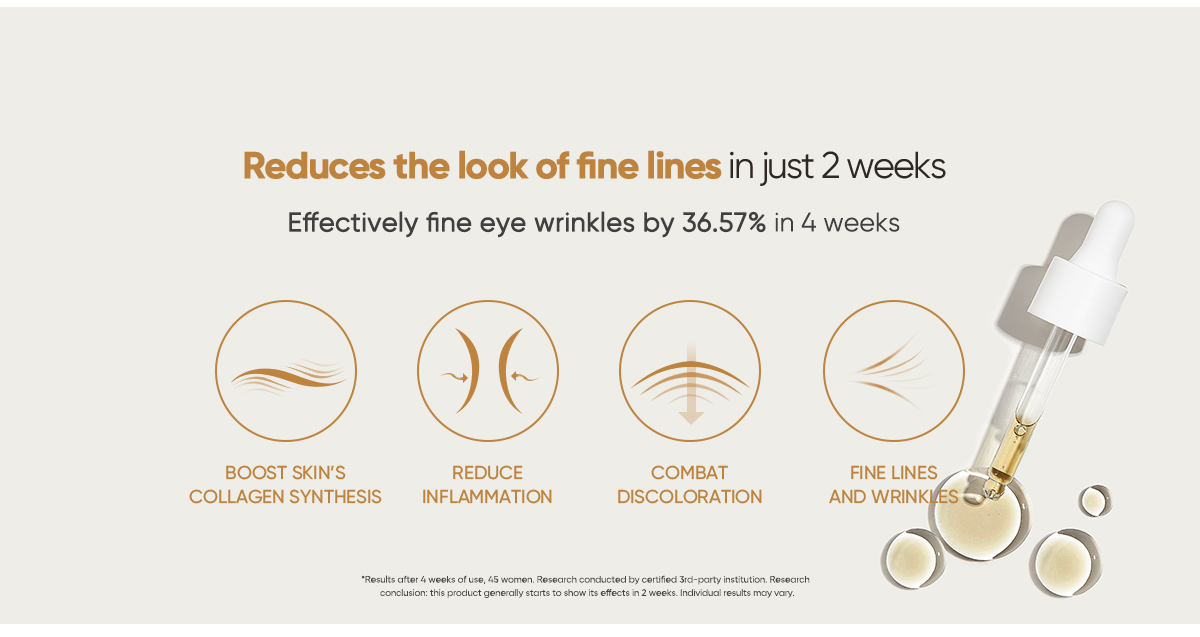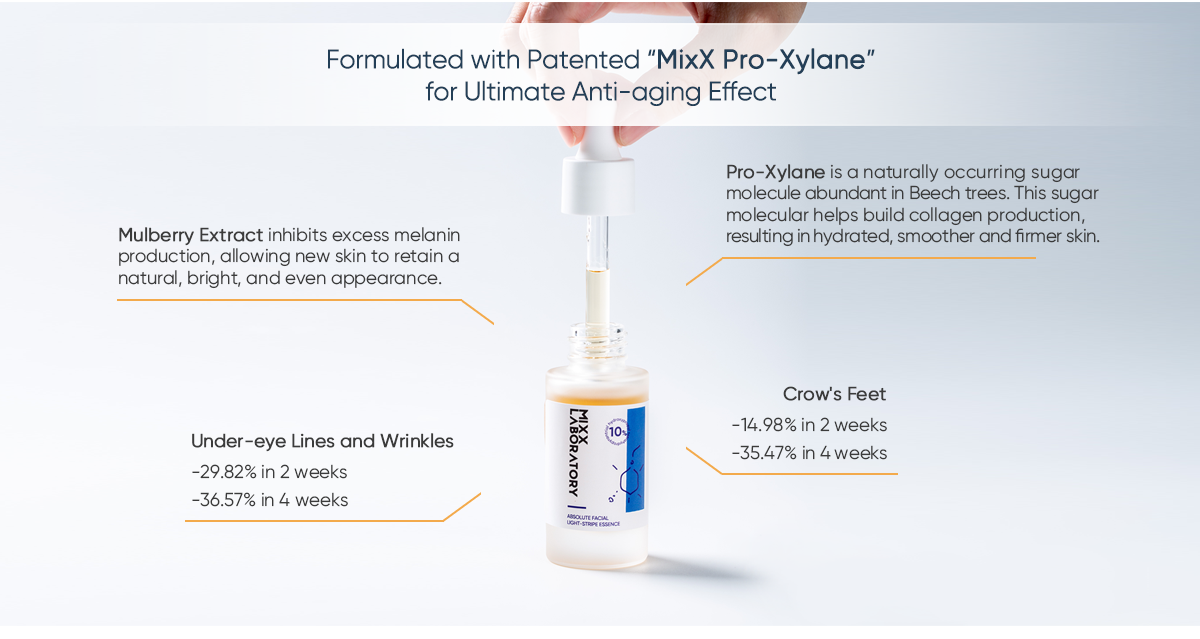 Let us tell you a little bit more about the key ingredients used in this essence...
With our Absolute Facial Light-Stripe essence, we sought to craft the ultimate anti-aging essence. To do this we paired two key ingredients to help your skin rewind time. Featuring hydroxypropyl tetrahydropyrantriol (derived from Beech tree) as well as Morus Alba (Mulberry) leaf extract, our Absolute Facial Light-Stripe Essence is the ultimate anti-aging serum.
Pro-Xylane (Hydroxypropyl Tetrahydropyrantriol, derived from Beech tree)
Few compounds have exhibited anti-aging properties as comprehensive or as well documented as that of the Beech tree-derived sugar molecule, Pro-Xylane (hydroxypropyl Tetrahydropyrantriol). This key ingredient boosts your skin's natural collagen synthesis and regenerative function leading to noticeably diminished fine lines and wrinkles. Originally developed by the "L" brand in 2006, Hydroxypropyl Tetrahydropyrantriol is a naturally occurring sugar molecule abundant in Beech trees. This sugar molecule is highly regarded for its ability to activate the natural synthesis of GAGs, hyaluronic acid, and collagen production, resulting in visibly plumper, firmer skin. Mulberry extract complements these effects by reducing inflammation, combating discoloration, and fading the appearance of dark spots.
Morus Alba (Mulberry) leaf extract
Hyperpigmentation and uneven skin tone can be frustrating reminders of when our skin is at its worst. Mulberry extract inhibits excess melanin production, allowing new skin to retain a natural, bright, and even appearance.
Ingredients: Water, glycerin, hydroxyethyl urea, hydroxypropyl tetrahydropyrantriol, betaine, xylitol, MORUS ALBA leaf extract, 1, 3-propanediol, isopentyl glycol, octyl glycol, 1, 2-hexanediol, p-hydroxyacetophenone, dipropylene glycol, hydroxyethyl cellulose, EDTA disodium, citric acid.